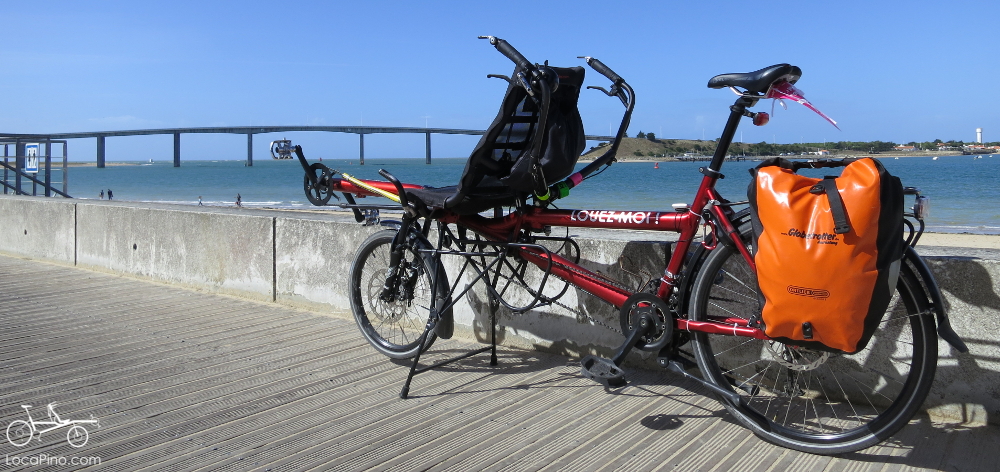 Is the Pino easy to ride?
Yes, the tandem Pino is surprisingly easy to ride. If you can ride a standard bike, you can ride the Pino. We've never encountered cyclists who had problems getting used to the tandem.
How does the Pino differ from a standard tandem bicycle?
A Pino is usually considered to address all the shortcomings of standard bicycles. In particular, the 2 cyclists both have an unobstructed view and can easily talk to one another. Also, a free wheel is integrated in one of the crank sets which means that the 2 riders do not have to pedal at the same pace all the time.
Do you rent e-bikes (e-Pinos)?
Yes we do. See our rental page.
Is the ride comfortable?
Very comfortable! Especially for the person sitting at the front.
Who handles the steering?
The person at the back. The person at the front has free hands and can do whatever he/she wants.
Can a children cart or a Bob Yak be fitted at the back of the Pino?
Yes.
Do you provide locks for the tandem(s)?
Yes we do. We also provide a complete set of bike tools and SPD cycling shoes for the person in front if you haven't got any shoes or don't want to bring your own.
Is wearing an helmet compulsory in France?
No it isn't, but we strongly recommend you wear an helmet at all times while riding.
What if we have a puncture?
Our Pinos are fitted with quality tires which incorporate a Kevlar protection layer. In the unlikely case you have a puncture, we provide you with spare tubes and a repair kit.
Is the Pino suited to carry children?
Very much so. The Pino will take children from the age of 3/4 years old. From 3/4 to 8 years old, you will need to rent an extra crankset which makes it possible for children with little legs to pedal. From the age of 9, children can pedal as an adult, in the front position.
Is the Pino suited to carry elderly people or people with disabilities?
Yes. Contact us for more details.
How many Pinos can we rent from you?
We can accommodate groups of up to 6 persons (3 Pinos) due to limitations in our capacity to transport Pinos in our vehicles.
What if we are an odd number?
We have links with other rental companies who can offer standard bikes for rent.
Can we take a Pino home with us?
Yes, this is possible. You will need to tell us beforehand and at the end of your rental period, we will collect the Pino you had and provide you with a brand new Pino to take home. Note that the Pino can be taken on a flight. Contact us if you are interested.
Will you provide assistance during my trip?
Yes we will. We're there to help and we aim at making your holiday as stressless as possible.
How can we stay in touch with home?
Should you wish to avoid using your phone in France, we have telephones connected to the French network for rent. The telephone is preloaded with useful apps (Skype, Facebook, Twitter, etc.).
Is there a deposit?
Yes. You need to leave us an ID document (passport, identity card or driving licence) during the time you have the tandem(s) and provide a credit card deposit of 4000 € (standard Pino) or 6000 € (e-Pino). The deposit is cashed in in case the bike is not returned to us at the end of your trip or if you've had an accident with the bike in a condition which prevents any viable repair.
Who is Locapino.com in relation to Rent-a-Pino.com?
Both sites and services are run by the French company Locapino S.A.S. Locapino.com is the French web site while the English/international version is hosted on Rent-a-Pino.com / Rent-a-Pino-tandem.com.
Do you speak English?
Yes, we do. We've spent several years living in the UK and are therefore fluent in English.
What is the best season for riding a Pino in France?
You can ride from April to October. The highest temperatures are encountered in July and August, but this is also the holiday season in France. As you go towards the beginning of April and the end of October, temperatures get smaller and chances of rain are larger. Having said that, climate change does happen and it is getting more and more difficult to select the best season for cycling.
Which cycling itinerary should we do?
First read our suggestions of cycling routes and then contact us so that we can come up with the best possible route for you.
Which daily mileage can we do with a Pino?
A Pino is not so much different from a standard trekking bike. The number of km you can do in a day depends on your fitness, the time you have available for cycling and the relief of the stage. On flat grounds, a good daily average when you ride for several days in 40 to 70 km per day (25 to 45 miles per day). Adopt a daily average of 30 to 50 km (18 to 30 miles per day) if you're traveling with children. As to the average speed, our clients usually do an average of 12 to 18 km/h (7.5 to 11.2 mph) during the course of a day. You will find suggestions of cycling itineraries depending on the number of days you want to cycle on our dedicated page.
What are the accommodation options?
Accommodation is usually not a problem when you go cycling in France, especially on the most popular cycling routes. You basically have two options:

carry your camping gear and stop in camp sites (there are many camp sites in France and most of them are really good value - from 5 to 20 euros for a tent and 2 people) or in the wild. The advantage of camping is that you don't have to make any booking (whatever the season), hence you are completely free to change your daily or trip plans.
stop in accommodation such as hotels, B&Bs, Air B&Bs or warm showers. It is obviously recommended to book your accommodation during the two summer (holiday) months, but we've had clients who did not book anything and were easily finding accommodation from a day to the next using booking.com.
Do you book accommodation for us?
No we don't since we feel that accommodation is really a personal matter. Some of our clients are looking for the most luxurious hotels and B&Bs while others are looking for good value accommodation. Everybody has his/her own preferences. We can however advice if necessary.
Do you carry luggage from one place to the next every day?
No. We're a Pino rental company with a premium delivery and collection service. You're responsible for carrying your own clothes and gear during your rental period. Note that we rent panniers and waterproof bags to carry your stuff. Should you come with suitcases, we will keep your empty suitcases during your trip and bring them back to you on your last day.
Do you rent camping gear?
We offer a complete camping gear set for rent. It comprises a backpacking tent, sleeping pads, sleeping bags, stove, cookware, dinnerware, and the ultimate comfort in bikepacking, lightweight foldable chairs.
What happens if we arrive by plane?
Leaving one of the Paris airports on a bike is not something you want to experience. Two options:

we come and collect you directly at the airport and then bring you to your starting point on the cycling route you selected or bring you to your first accommodation.
alternatively, you can take public transports and we then meet you wherever you want.
Contact us to know the prices for collection/delivery/pick-up for your specific trip.
Can we take the train with a Pino?
No. The French railway company SNCF has changed their rules 3 years ago and oversized bikes (in particular tandems and children carts) are not allowed on trains anymore. Locapino provides a delivery and collection service in the whole of France to address this issue.
What happens if we don't reach our final agreed destination?
Don't worry, we'll come and collect you wherever you are.